It's nice seeing our customers taking a little initiative, but we want to make sure everything runs smoothly, so let's go over the installation step-by-step, shall we?

Step 1: Before you start

If all your services are through your Horizon box, disconnect your current equipment – i.e. your set-top-box, your modem and all of the cables. If you have requested that you keep your existing modem, only disconnect your set-top-box.
From the label on the bottom of your box, note your SSID and PASSWORD details so you can refer to them later. Your network name will be either an 8-digit number with a UPC prefix or an 9-digit number with a HZN prefix. Also note the SSID and Password for the 5Ghz network, in case you need to connect a device using this later.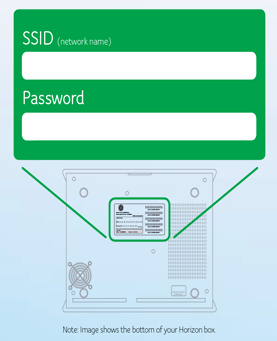 Step 2: Connecting your Horizon box and hardware
Connect the white coax cable to the TV port on your wall to the "COAX IN" socket on your Horizon box, making sure that both ends are secure.

Take the black power cable and connect this to the power adapter. Then place the plug end of the cable into the power socket and the opposite end into the slot at the back of your Horizon box, just below the power button.

Step 3: Connecting your TV to your Horizon box

To make the most of the HD channels that you have as standard from Virgin TV, connect your Horizon box to your TV using the HDMI cable provided.

If you do not have a HDMI connection on your TV, you will need a Horizon box with a SCART output. If your box has a SCART output, connect this to your TV with a SCART cable (not provided) If your box does not have this, please contact us by calling 1908.

Now switch on your Horizon box, this switch is located at the back of the box.

Step 4: Turning on your TV and selecting personalisation preferences
It is now time to turn on your TV by pressing the power switch. Make sure that your TV is set to the correct source – ie HDMI
At this point please allow up to 30 minutes in which you may see a number of screens before you need to take any action. When you see the screen that displays the word 'English' you know that the process is complete. Please do not switch your Horizon box off during this time as it may disrupt installation.
You can now press OK on your remote control. The next screen you will see is the personalisation screen. Don't worry if this doesn't appear straight away as this stage can take up to 15 minutes. When it appears, please select your preferred response. You can do this by using the up and down keys on your remote control and then pressing the OK button to confirm your selection.
After this screen, the Power Management setting screen will appear. We recommend you select "YES – Broadband. Wi-Fi & Phone always on", so that all services continue to work even when the box is in Standby Mode.
Home Network: After a short period of time an onscreen message will appear to help you set up your?home network. Please select 'later' as you can set this up at a later date.
Step 5: Connecting your home phone
Connect your telephone cable from the base of the phone to the Tel 1 socket on the back of your Horizon box. Once this is complete you can connect your phone base to its power supply, ensuring that it is correctly plugged in.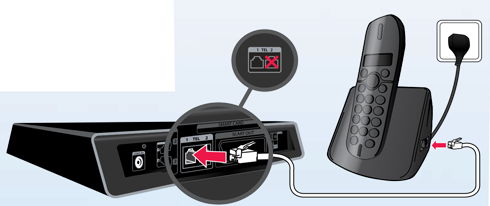 Step 6: Connecting your devices through Broadband
Wired Devices - This includes: Desktop, PC, Laptop, Games Consoles. Connect your Ethernet cable (not supplied) to any of the 4 LAN ports on the back of your Horizon TV HD+ box and connect the other end to your device.?Note: We would recommend that you use Cat5e Ethernet cable to ensure that you get the best possible experience.

Wireless Devices - To connect any wireless device you will need to have the SSID details, ie your network name and password, that you gathered in step 1 of this process. Please note that wireless speeds may vary depending on your surroundings. Virgin Media has no control over these surroundings and cannot guarantee wireless speeds.

Congratulations! You have now completed your Horizon box installation.
What messages will I see on my TV screen when I am installing my Horizon box?

Once you've installed your Horizon box, switch it on along with your TV. The first time you do this your Horizon box will attempt to connect to the Virgin Media Network. This may take approximately 30 minutes so please be patient, make sure not to unplug your box during this time.
During the installation, you may see messages on your TV advising of Codes 1010 and 1030, these are part of the normal installation process.
If you do not see the "Language Selection - English" screen appear on your TV screen after 30 minutes we recommend that you unplug your Horizon box and leave it off for 15 seconds before plugging it back in.
If you see an on-screen message advising of Code 1090 at any stage during the step please unplug your Horizon box and leave it off for 15 seconds before plugging it back in. If the message remains on-screen please call our self install helpdesk on 1908 and select option 2.