Do Virgin Media offer mobile phone insurance?
Yes, we've agreed a deal with our friends in Mobilecover to bring you exclusive phone insurance rates. Your policy is provided directly through them. Find out more below.

How does it work?
The folks at Mobilecover have agreed to give Virgin Mobile customers a special discounted insurance rate. Once you've got your mobile phone from us, just follow this link to insure my phone. Pop in your details and Mobilecover will send you an insurance cert.
From then on you can sit back and relax - you're insured. Just remember, be careful when entering your information, any mistakes and you might not be fully covered!

How much will it cost?
It's not rocket science: It just depends on your phone price. Our mobile phone range is split into three comprehensive policy types, high, medium and low. Mobilecover decides which phones fall into each. On the Mobilecover page, just select your phone model to see what your policy will cost.


What's covered?
If disaster strikes, don't stress! You'll be covered for Screen Damage, Liquid Damage, Accessory Cover, Total Write Off, World Wide Coverage, Loss, Theft and Courier Service. As always, make sure you read the fine print first.

So how do I claim?
We'll get you back up and running in no time, but there are a few things you need to do first.
1. Get in touch with the Virgin Mobile Care Team on Freephone 1908 within 24 hours to report loss, theft or damage to your phone. We'll put your phone on the National Blacklist so no one can use it in Ireland. We can also send you a new SIM card.
2. You'll need the Mobilecover claim form. You can download it here.
3. We'll send you a warranty receipt for your claim.
4. Once you've filled out the claim form, get it signed at your local Garda station.
5. Finally, you need a cheque, postal order or debit/ credt card made out to Mobilecover for the cost of your excess.
6. Pop it all in an envelope and send to:
Mobilecover
PO Box 11140
Dublin 2
Once Mobilecover process your claim, they'll replace your phone with a like for like model or repair it. Happy days.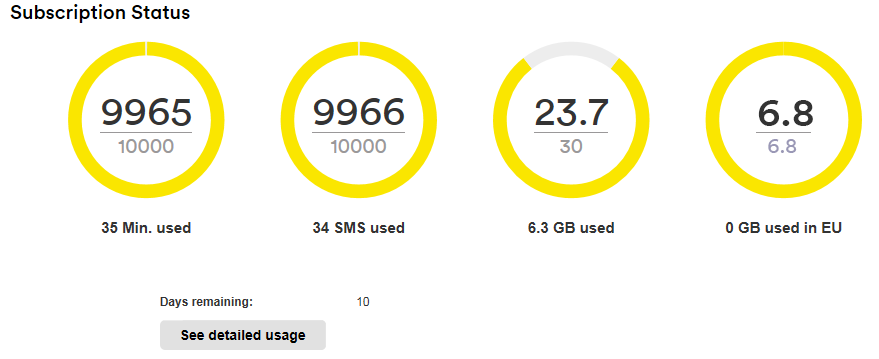 For more details on your usage simply click on the "See detailed usage" button under the summary and you can view your individual calls, SMS and data usage.