Let us help you port you phone number from your existing provider to Virgin Media.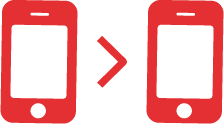 Moving your number to Virgin Media
Its easy to move your number to Virgin Media. Select whether you want to move your mobile number or home phone number and then simply follow the steps below.
How to port your mobile number
How to transfer your home phone number
Make the most of your Virgin Media Experience
You'll find lots of tips for using your phone in our handy phone guides.


Can't wait to use your new Virgin Mobile SIM? Make sure your phone is unlocked first.
Keep track of your mobile usage by signing up to My Virgin Media.



Saving the pennies? Check our out of bundle rates to help stay within your allowance.