Your Phone & SIM Delivery
Virgin Mobile order and tracking
How do I receive my Virgin Mobile Order?
All Virgin Mobile Orders are delivered by our courier company, Nightline. Shortly after you have placed your order, they'll send you an email and SMS text to outline your delivery date. You have the opportunity to change the delivery details, including the destination and date up to 10pm on the day you placed your order.
Security is a priority for us, and for Nightline too. If you have ordered a Virgin Mobile Phone you will be sent a 4 Digit Code via email and SMS. You will need this to be able to accept the delivery from the courier once they arrive. If you have ordered a Virgin Mobile SIM Only, you will not receive a 4 digit code.
Remember, Virgin Mobile does not charge for delivery. If you have any queries on your delivery, please call 0890 341 818 and someone will be happy to help.


I haven't received my Virgin Mobile Order. Who do I contact?

That's odd – and unfortunate. You should have received an email and SMS text from our courier company shortly after you place your order. You should also receive a text message and email on the morning of your delivery. You can check the status of your order at http://www.nightline-delivers.com/SmartShip.Online with the tracking ID provided on your order confirmation email. You can also speak with a representative by visiting their support page.

You can read more about how to track your order below, or learn how to change your delivery date or address by reading below.

How do I track my Virgin Mobile SIM order?
You can track your delivery by simply clicking on the bit.ly URL web address you have received in the text message. This URL address is unique to you and will take you to a personalised page with your delivery details. On that page you can change the delivery date or address, or you may arrange to collect the SIM from your local depot.

If the delivery date or time doesn't work out, you can change it to fit your schedule.
If you need support on your delivery, contact 1890 341 818. A team is available to help from Monday to Friday, 9am to 6pm, and on Saturdays from 8am to 12:30pm.


How do I know I will get the right SIM card for my phone?
You will receive a SIM which has three different sizes included in one - Standard, Micro and Nano. Please ensure that you use the correct sized SIM card for your phone.If you're unsure what size SIM your phone needs, you can have a look at the device specification for your phone in our Phone Guides.

How can I change the delivery date or address of my Virgin Mobile Order?
Your Virgin Mobile SIM will be delivered by our courier service Nightline, who send an email and a text message to confirm the delivery date. Here is an example of a text message you will receive: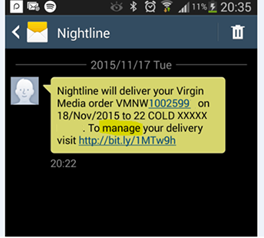 The email and text message contain a unique tracking ID and a bit.ly URL web link. When you click on the link, you will be brought to your own personal webpage where you can reschedule the delivery date or change the delivery address.

Once you click on the link you will arrive at a screen where you will be asked to enter your mobile number and confirm. See image below: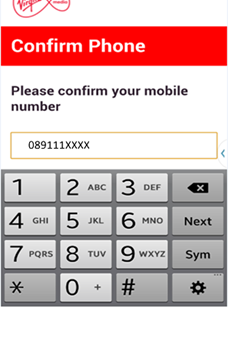 Once you confirm your number, click "Submit" and you will arrive at the screen below: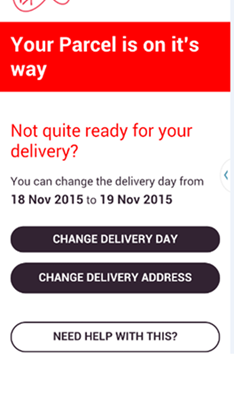 If you are happy with the delivery date then don't do a thing, just wait for the order to arrive as detailed in the SMS.

If you need to make a change, you can select "Change Delivery Day" or "Change Delivery Address".

Once you click on a button just enter the required new details, and click "Submit".
After you have made a change, Nightline will send you another email and text message on the day to confirm the time of the delivery, which is a two hour window:

"Today's the day! Your Virgin Media order will be delivered by Nightline between **** to ****. To reschedule visit http://bit.ly/1Qwxhf0 or call 1890341818"

Please note that the courier will always email and text and not call to confirm the delivery. Nightline Support is available by calling 1890 341 818 between 09:00 – 18:00 Monday to Friday, and 8:30 - 12:30 on Saturdays.