General information and troubleshooting
My iMessages are not being delivered with my ported in number, how can I fix this?
To resolve this issue please carry out the steps below:
1. Go into "settings" on the iPhone
2. Click on "messages"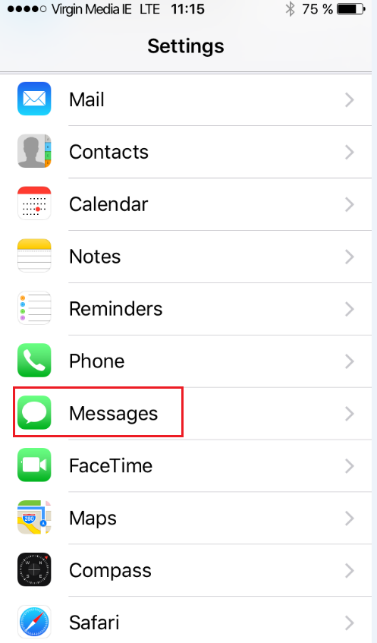 3. Click on "send & receive"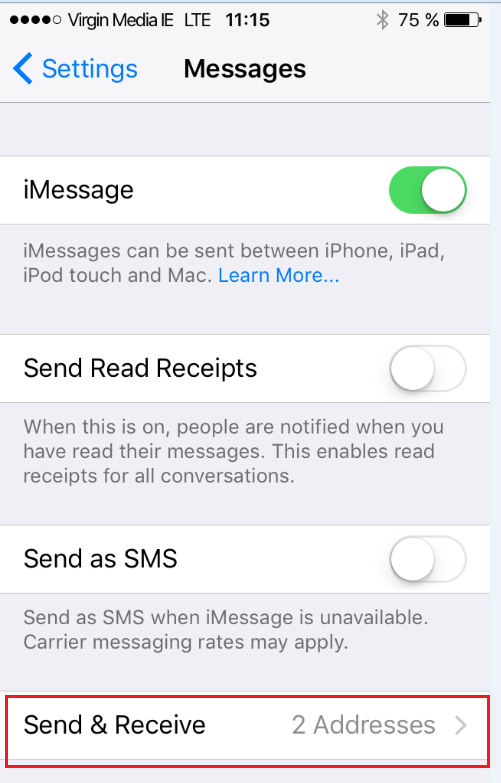 4. Enter the ported mobile number and save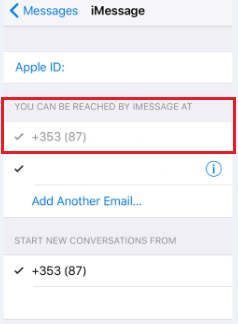 What is a PUK number? How do I get mine?
Did you get blocked from your phone? That's OK, it's more common than you think – which is why the PUK (Personal Unblocking Key) was developed. If you entered your SIM number incorrectly more than three times in a row, the phone will become blocked. In order to start again, all you have to do is enter the PUK, which is printed on the SIM pack which you would have received with your SIM. Keep it safe as you may need it if you get blocked out of your mobile phone. If you lose it, you can retrieve your PUK code by dialling 1908 and following the prompts from the mobile menu.

Where can I find my Virgin Mobile number?
Your Virgin Mobile number is listed on the top of your bill. It's also included on the letter you would have received with your SIM pack, and is printed on the back of the SIM pack.

My SIM card isn't working. How do I get a new one?
If your SIM card isn't working, you can log on to My Virgin Media to request a replacement SIM or contact us and we can send you out a new SIM card by post if you need one. Before you reach out, try your SIM in a different, unlocked, phone to determine if it needs to be replaced.

How can I change my personal account details?
To change your personal account details, simply log on to My Virgin Media and click on "My Profile" at the top of the page. There, you'll be able to change your contact information, address, email address, date of birth, and more.

What do I do if my SIM card and phone has been lost or stolen?
You can log into My Virgin Media to report it stolen. It's best to contact us straight away, so we can stop any unauthorised usage from occurring on your account. We can also issue a new SIM so you can continue to use your mobile number with Virgin Mobile.

My Virgin Mobile phone is not working and I bought it less than 28 days ago, what do I do?
Getting a new mobile is always exciting, so we're sorry to hear that something went wrong. If you purchased a Samsung, Sony or Microsoft phone from us and your phone has a fault within 28 days of you receiving it, you can return it and we'll be glad to replace the model you purchased (Unfortunately, we can't swap your Virgin Mobile phone for a different model).

Just give the Virgin Mobile Care Team a call on 1908, and they will get your details, talk through the fault and arrange for collection of the phone.

Once we confirm there is no damage to the phone, we will arrange a replacement and get it out to you as fast as we can.

If you have purchased an Apple phone from us, and it is faulty, you can call our Mobile Care team on 1908, and we will organise for it to go out for repair.

Once all the required details have been logged, we will send a courier out to you to collect your phone the following day. We should have it back to you working within 5 working days, providing there are no parts issues, which may increase this time.

You can also return the iPhone directly to Apple. Visit the Apple website for more information on their return policy.


How do I set up call waiting?
Call waiting is brilliant to have – and easy to activate. Just type *43# and hit the call button. To de-activate, dial #43#.

Does Virgin Mobile offer an Online Web Texts service?
Nope. But! All of our plans include lots and lots of standard texts which you can send from your phone.

How do I insure my Virgin Mobile Phone?
With how much we depend on our phones, it's always best to err on the side of caution. If you're unfortunate enough to damage or lose your phone, or to have it stolen, mobile insurance can provide peace of mind that replacement costs will be covered.

To learn more, or find the best way to insure your phone, click here.


My Virgin Mobile phone is not working what can I do?
We're sorry to hear that you are experiencing issues with your phone. Don't worry, we are here to help. Below are some steps you can take to make sure that there isn't a small glitch with your phone.

1. Power the phone off and then turn it back on. Obvious we know, but for some phones resetting the software can fix many issues. For an iPhone you will need to hold down the lock power button for a couple of seconds until you see the Apple logo.

2. Check for the latest version of software. Our Mobile Handset Guides can help you synchronise with your computer to get the latest updates and help you if you are experiencing issues with setting up any features.
Still having issues? Call our Mobile Care team on 1908 and they'll get you sorted.