Account, billing and managing your account
We like to keep things smooth, simple, and safe, we require all Virgin Mobile customers to pay their monthly mobile bill by Direct Debit.

What period does my monthly bill cover?
Your monthly bill covers the period from the 19th of the month until the 18th of the following month. Your bill will be issued on the 21st of every month, with your Direct Debit payment being taken within 10 days of your bill being issued.

Can I change my Direct Debit details?
If you would like to change your Direct Debit details, just drop us a line, and we'll be happy to get you sorted.

How do I Register to My Virgin Media?
Make sure you have your account number for your Broadband/TV/Home phone (fixed), mobile or both ready to hand. And if you are already registered for fixed, make sure you also have your Username.
Learn how to register by following the short step by step guide.

What can I do in My Virgin Media ?
• Change your personal details
• Choose paper or online billing
• Cancel your SIM if its lost or stolen
• Tell us if you moved home
How can I sign up to eBilling for my Virgin Mobile account?
• To sign up for e-billing, simply sign in to My Virgin Media and select click on 'My Billing and payments' link in the top menu.
• Then select 'Change my billing options', and it will show your existing options.
• In the Billing method line select 'switch to paper bill' or 'switch to eBilling' option depending on what you are currently on.


How do I cancel my Virgin Mobile account?
Virgin Mobile's exclusive SIM Only price plan has a 30 day contract. This means that you can cancel at any time as long as you give 30 days' notice. To cancel your account, speak to one of our representatives.

How do I add my Virgin Mobile account number to my registered Fixed My Virgin Media account?
If you want to make the most of all Virgin Media has to offer, adding your Mobile to the Fixed My Virgin Mobile Account is a brilliant way to do it.

If you are already registered to My Virgin Media as a Broadband/TV/Home phone customer (fixed customer) then:
Sign in to My Virgin Media
Go to the "My Profile" page.
Scroll to "Your Virgin Media Accounts" section and click "Add New" link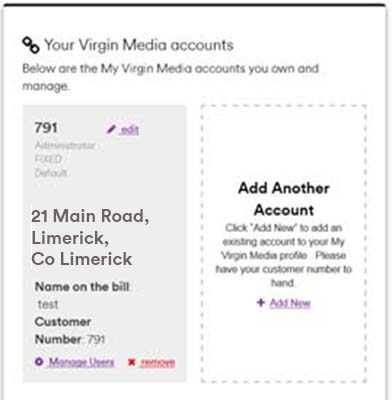 Add your Virgin Mobile account number, your surname, tick "I am not a robot" and click "save".
Voila! The My Profile Page will now include a new panel with the details of your added account.
Now you can switch between the accounts with the click of a finger.

Tip: If you have added one fixed and one mobile account, you can view their billing and product details under one view by combining them.