Account, billing and managing your account
We like to keep things smooth, simple, and safe, we require all Virgin Mobile customers to pay their monthly mobile bill by Direct Debit.

What period does my monthly bill cover?
Your monthly bill covers the period from the 19th of the month until the 18th of the following month. Your bill will be issued on the 21st of every month, with your Direct Debit payment being taken within 10 days of your bill being issued.

Can I change my Direct Debit details?
If you would like to change your Direct Debit details, just drop us a line, and we'll be happy to get you sorted.

How do I Register to My Virgin Media?
Make sure you have your account number for your Broadband/TV/Home phone (fixed), mobile or both ready to hand. And if you are already registered for fixed, make sure you also have your Username.
Learn how to register by following the short step by step guide.

What can I do in My Virgin Media ?
• Change your personal details
• Choose paper or online billing
• Cancel your SIM if its lost or stolen
• Tell us if you moved home
What you need to know about Theft, Fraud and Failure to Pay.
It's everyone's worst nightmare. You've just got a shiny new phone and you bring your prized possession on a night out. You check your bag or pocket, and… gone! Considering they're among our most valued items, it's no surprise that 15 phones are stolen in Ireland every day, according to recent Garda figures.
If it happens to you, don't panic. Get in touch with Virgin Mobile Care team on Freephone 1908 right away. As soon as you report it, we'll block your SIM card so it can't be used. We won't be able to reactivate the SIM if you find the phone again, but we can send you a new SIM and reactivate your old number. Phew!
If you give us the IMEI of the phone that was lost or stolen, we'll bar the phone from use on any network in the Republic of Ireland. We do this by inputting your IMEI device number to the Central Equipment Identity Register (CEIR). This is what's known as blacklisting your phone.
As well as theft, sometimes we have to deal with customers who won't pay for their phones. So if we suspect fraud related to the phone, or if your phone account goes through collections and payment is outstanding on the device we may also place the phone's IMEI on the CEIR.

Found your phone? Or want to resume payment on your account? Great! Give us a call on Freephone 1908 and… bye bye blacklist! We'll take your phone off the CEIR and you'll be free to use it again anywhere you choose.
How can I sign up to eBilling for my Virgin Mobile account?
• To sign up for e-billing, simply sign in to My Virgin Media and select click on 'My Billing and payments' link in the top menu.
• Then select 'Change my billing options', and it will show your existing options.
• In the Billing method line select 'switch to paper bill' or 'switch to eBilling' option depending on what you are currently on.


How do I cancel my Virgin Mobile account?
Virgin Mobile's exclusive SIM Only price plan has a 30 day contract. This means that you can cancel at any time as long as you give 30 days' notice. To cancel your account, speak to one of our representatives.

How do I add my Virgin Mobile account number to my registered Fixed My Virgin Media account?
If you want to make the most of all Virgin Media has to offer, adding your Mobile to the Fixed My Virgin Mobile Account is a brilliant way to do it.
You need to have a My Virgin Media account, you'l be asked to sign in while purchasing. Not registered yet? No problem, that only takes a few moments. Why not register now?

If you are already registered to My Virgin Media as a Broadband/TV/Home phone customer (fixed customer) then:
Sign in to My Virgin Media
Go to the "My Profile" page.
Scroll to "Your Virgin Media Accounts" section and click "Add New" link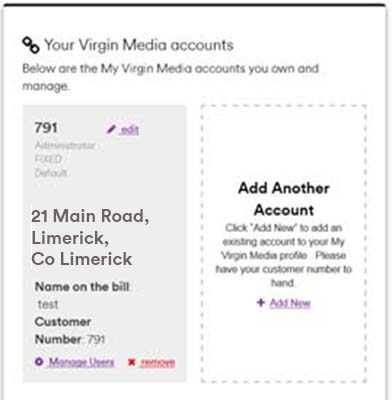 Add your Virgin Mobile account number, your surname, tick "I am not a robot" and click "save".
Voila! The My Profile Page will now include a new panel with the details of your added account.
Now you can switch between the accounts with the click of a finger.

Tip: If you have added one fixed and one mobile account, you can view their billing and product details under one view by combining them.