These are the options for receiving your bill:
1. eBilling:
With eBilling you can view your bills online in your My Virgin Media account and print them free of charge. Instead of receiving a paper bill in the post, we'll send you an email to let you know when your bill is available online.

eBilling has its benefits:

1. You can view and pay your itemised bill online.
2. No postal delays in receiving your bill.
3. You can view previous bills for the last 12 months.
4. You help keep the world a little greener!

2. Paper billing:

eBilling isn't for everyone, and that's fine. Sometimes it's nice to get a bill in the post. If you want to go back to receiving paper bills, just follow these simple steps:
1. Log into your My Virgin Media account.
2. In the "Bills & Payments" menu select "Change my billing options".
3. Choose the option to "Switch to paper billing".
You will now be opted out of eBilling and start receiving paper bills again. It's as simple as that.
Remember, if you use Direct Debit and choose to revert back to receiving paper bills, you will only receive a paper bill if the amount on the most recent bill is different than the previous bill.
Of course, you can still view your bills online in your My Virgin Media account, and print your bills from the last 12 months, free of charge. If you need a paper bill to make a payment you can order a Payzone card from our Customer Care team on our Contact page. You can use this card when making a payment at any one of hundreds of Payzone locations across the county.
3. Itemised/Non-itemised billing:

Want to get into the nit and grit? You can chose to receive itemised or non-itemised bills. Itemised bills will show:

1. The charges for your bundle.
2. Savings or discounts you are availing of.
3. A full breakdown of your call history.
4. A full breakdown of your On Demand usage.
On the other hand, non-itemised bills will show the same except the details of individual calls or movie rentals.
To request an itemised or non-itemised bill, all you have to do is visit our Contact Us page, and speak to a member of our Customer Care team.

Options. It's all about options.
Can I get my bill sent to an alternative address?
Yes - it's absolutely not a problem. To organise it, please write to us at Virgin Media, Billing Services Team, Eastpoint Business Park, Dublin 3.

Include your full name, account number, current address, new correspondence address, a contact phone number, email address and the reason for the change.
For security purposes, the letter must be clearly signed by the account holder, and you will have to pay by Direct Debit.

I'm a Direct Debit customer but just received a bill.
This can happen sometimes. If there is a change to the services you use then you will receive one bill confirming the change and stating your new monthly payment amount.
For example, a customer who has Digital TV and pays by Direct Debit won't receive a monthly bill unless they sign up to our Fibre Power Broadband or Home Phone service. Even then they will receive just one bill detailing their new monthly amount.
We are pleased to offer all our customers an online facility, called My Virgin Media, which enables you to view your bills online. You can
sign up today to My Virgin Media

Can I allow a third party to discuss details of my account with your Customer Care?
That's not a problem. However, in accordance with Data Protection legislation, we can only discuss account details with a person named on the account.
To speak to a member of our customer care team and add the other party, dial "1908" and select Option 2. Overseas customers can call 00 353 1 245 8000. Please remember to have your account number on hand. We also need to speak with the person you want to add, so it's a good idea to have them on hand too.
You can also add the third party by post. If you would like to do this please send a letter to:
Virgin Media, Building P2
Eastpoint Business Park
Clontarf, Dublin 3
Please be sure to include all of your account information in the correspondence.


What are IBAN and BIC numbers?
IBAN and BIC are new payment standards introduced as part of the Single Euro Payments Area (or SEPA) which is an EU initiative that will change the way euro denominated electronic payments are processed across Europe.
What is IBAN?
IBAN stands for International Bank Account Number. This is an internationally agreed standard (SEPA) of account number, which has been designed to assist with cross-border payments made within the EU. Your IBAN consists of your account number and a new code.
Example IBAN: IE85AIBK91234512345678
What is BIC?
BIC stands for Bank Identifier Code. The BIC code replaces your traditional sort code and when used in conjunction with an IBAN it identifies your specific bank. Example BIC: AIBKIE2DXXX
Where can I find my IBAN and BIC?
Your IBAN and BIC can be found on your bank account or obtained directly from your bank. Also, you can retrieve your IBAN and BIC by using an online IBAN calculator.

I have already paid, so why does my bill show an amount owed from the last bill?
Sometimes the payments you make might not reach us in time to show up on your bill.

On the first page of your bill, you will notice the bill date. This is the date that your bill was generated. If you paid your bill just before or after that date, its possible we received your payment after the bill was produced.
Don't worry, although it doesn't appear on that bill, it will show on your next bill.


How do I download a copy of my online bill?
In My Virgin Media each bill can be downloaded as a PDF document. Once downloaded as a PDF you will need to have Adobe Acrobat Reader installed to open the bills. If you don't already have Acrobat Reader installed then download it for free. Once downloaded, the bills can also be printed directly from your computer.
You can access the last 12 bills within My Virgin Media.
Log into My Virgin Media and view your online bills.
How do I add an additional name onto my account?
In accordance with Data Protection legislation, we can only discuss account details with a person named on the account. If you would like to add an additional name to your account you will need to contact us on freephone 1908. In order to complete this request the account holder would need to call with the person they are wishing to add and consent given from both to have joint responsibility of the account.

When do I have to pay my bill?
It would be lovely if you paid your balance on or before the due date, which can be found at the top of the bill. This date is usually 14 days after your bill is issued.
If you pay by Direct Debit and don't receive bills, the due date is the date we deduct from your bank account. e.g. bill is issued on the 14th, therefore the Direct Debit will be paid on the 28th..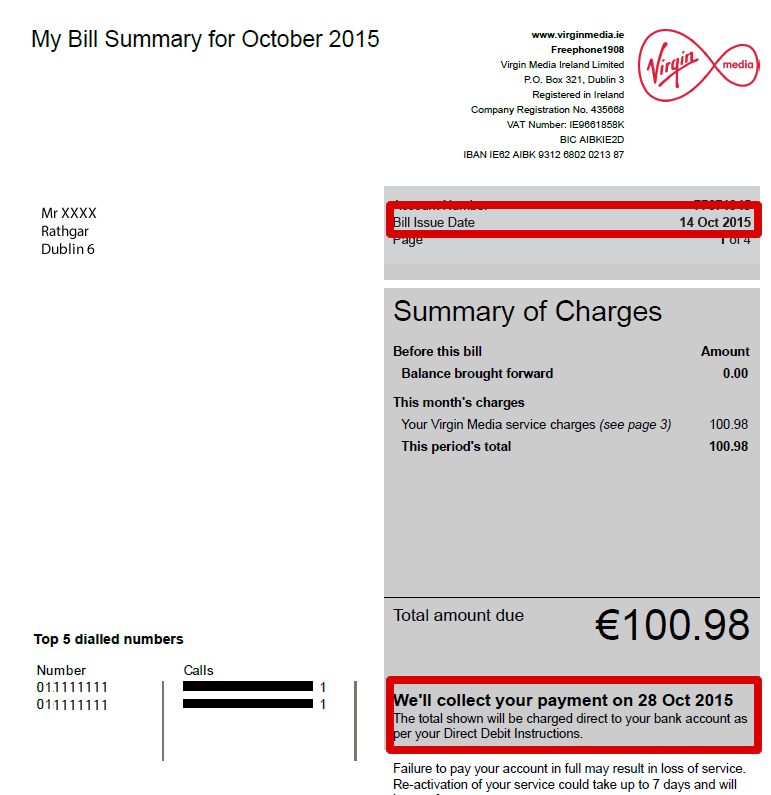 Timely payment is essential to maintain full service. It's important to remember that even though the services have been suspended, you will continue to be billed. Additionally, a late payment fee of €12.50 will be applied if you are 3 weeks (21 days) late after the 'bill due' date.
Of course, sometimes there are extenuating circumstances. That's why this fee won't be charged until we have sent a notification, and given you an opportunity to rectify the situation before the fee is finalized. There are a number of payment options available to make it easier for you to pay your bill.

Where can I find my account number?
Your account number is pretty important, and can be readily found in a few places:
1. If you are already registered for My Virgin Media you can find your account number under the "My Profile" section.
2. If you are not registered for My Virgin Media, then you can always find your number on the top right hand side of the most recent paper bill.
3. If you signed up for eBilling, your account number was included in the confirmation email we sent the day you enrolled.
This little 8-digit number can do a lot, so we suggest jotting it down and filing it away for futures.