What is the Virgin TV Anywhere app?
Virgin TV Anywhere puts the power of Virgin TV in your pocket. Whether the telly's been hijacked and your favourite programme is about to come on, or you want to lie back in bed and watch a movie in peace, all you have to do is open the app, find your next obsession, and click play. From 78 live TV channels to hours of films in the On Demand library, you'll never look at your mobile device the same way again…literally.

What do I need to use Virgin TV Anywhere app?
For starters, you need to be a Virgin Media Digital TV or Broadband customer and registered for My Virgin Media. After that, all you need is to own one of the following mobile devices.

1. Android OS Phones*
2. iPad 2 and upwards
3. iPhone 3GS and upwards
4. iPod Touch**
5. Windows 10 Desktops, Smartphones and Laptops.

Having the app also helps. You can download it now at the iOS App Store, Google Play Store, or on Windows 10.

Note: Devices should not be jail broken. Jail broken devices are those that have been customised so there are no software download restrictions. Read more on how to restore your iOS device.

*4.03 or higher
**Firmware must be iOS 5 or higher

What are the features of the Virgin TV Anywhere app?
The list of features is massive, so let's hit the big ones. First, you can watch live TV including RTE1 and 2, TV3, all the BBC channels, the ITV channels and many, many more. You can also browse and view our extensive On Demand library of box sets, complete series, latest movies and children's content.
Then there's the recording capabilities. The Virgin TV Anywhere app connects you to your Horizon box, so you can set recordings when you're out and about. This way, if you see something you like on your device, but would rather watch it at home, just record, and pick up where you left off later. You can also set reminders, so you never miss a minute of your favourite programs.
The Virgin TV Anywhere app also works as a remote control. You can browse what's currently playing, and switch it to your living room's big screen. Want to see more? Download the app, and take it for a spin.

You can find out more in our Using Virgin TV Anywhere App FAQ

Content Portability Regulation: What is it?
Content portability is part of the Digital Single Market Strategy where customers in one EU Member State can travel to another and freely watch content from their home countries without restrictions.
What's changing?
Previously (due to content rights) you could only watch content via the Virgin TV Anywhere App in your home country in line with your subscription. From April 1st 2018 you can now also watch content via the app when you visit any other country throughout the EU, using any compatible portable device. To view content in the EU, you don't need to do anything differently.
What do I need to do?
Just make sure that the app you have is the most up to date version. That's it – there are no additional steps or requirements, simply watch your favourite shows as you would at home. Please note that streaming quality may differ depending on the network.
How do I use the Virgin TV Anywhere App when I'm away?
You can view content abroad in the rest of the EU in the same way you normally enjoy using the Virgin TV Anywhere App on a computer, tablet or mobile device. Just make sure the county is one of the participating EU territories by checking our list below, as streaming is not allowed outside of these territories.

I'm a Sky Sports and/or Sky Cinema subscriber. Can I also view that content while abroad?
Absolutely - Virgin Media customers can access and view both the Sky Sports and Sky Cinema apps when viewing within participating EU territories.
What is Virgin TV Anywhere device registration?
Why am I sometimes asked about registering devices?
Registering your device connects it to the network, and allows you to retrieve the content. Registering is important because some broadcasters only allow up to 2 registered devices to stream both On Demand and live content. If your device isn't connected to the network, it won't be able to access the content, and therefore the app.

How many devices can I use at the same time with Virgin TV Anywhere?

Only 2 registered devices can access Virgin TV Anywhere through your account. If you try to log on with a 3rd device to watch live TV, you'll receive an error message saying you've reached the maximum limit. If you'd like to sign into Virgin TV Anywhere on a different device, all you have to do is register the new one – something we call a "device change".


What constitutes a device change?
It's pretty simple. When you add a new device to your account, that's considered a device change. It's pretty easy too. Registration is automatically triggered when you try to view content on a device that hasn't been registered.

How often can I change my registered device?
Whether you got a new phone, or want to give someone else keys to the kingdom, you can switch one of your devices per month, every month, from the 1st of the month..

I am using Virgin TV Anywhere, but have no access to some channels. What can I do?

Virgin TV Anywhere is a great app when you want to watch your favourite programmes when you're out and about or laying in your bed. But, if you're not on the Virgin WiFi network, some channels will not be accessible due to licensing rights.
The limited channels include: Channel 4/More 4, RTE, Discovery Channels, ITV4, and BBC.
Below is an example of the message you will receive when trying to view unavailable content.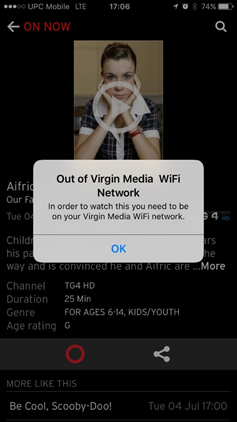 If you want to watch these programs, just connect back to the Virgin Media network at home or through Wi-Free.

More
I am unable to use Virgin TV Anywhere app. What should I do?
First, check that you entered you My Virgin Media account details properly. (If you haven't registered for My Virgin Media yet, register now.)
If this is the first time registering your My Virgin Media account, you need to wait 24 hours before using the Virgin TV Anywhere app. We're sorry for the delay, but we promise this app is worth the wait.
Please note that if your services have been suspended due to late payment, you won't be able to watch TV using the Virgin TV Anywhere app.

How do I register a device?
Whether you're using the Virgin TV Anywhere app, or Virgin TV Online, certain channels (59 in total) require device registration. Only two devices can be registered at any time, but you can change those devices through the app or online once per month.

Registering a device with the app:
If you're trying to use the app with an unregistered device, you will first see the following message: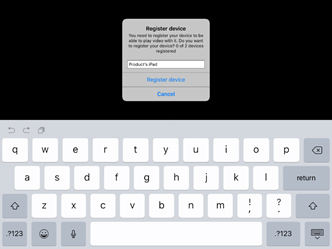 To begin the registration, click "Register device", which will prompt the following message: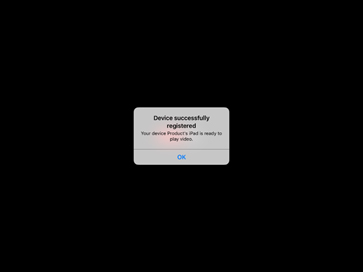 Only two devices can be registered at a time, so if this is a third, you will see the next message when attempting to watch streaming content.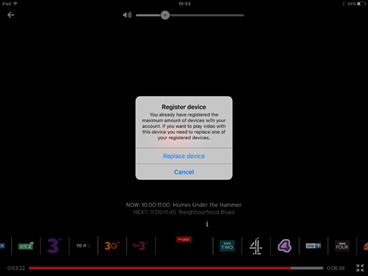 At this time, go ahead and press "Replace device".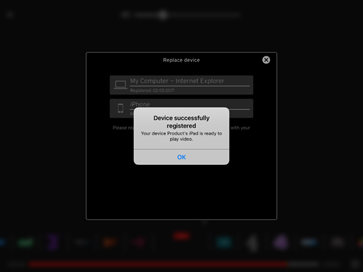 If you try to replace the device a second time within a calendar month, you'll be shown the following message.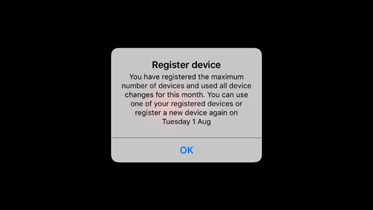 This is a precautionary step for you and your family. Just sit tight, and wait for the next window. It's worth it.

More
Registering a device online:
If you try to access one of the 59 channels on an unregistered device online, you'll see the following message.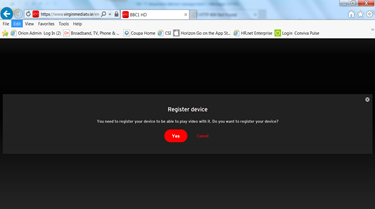 To begin the registration process, select "Yes". And …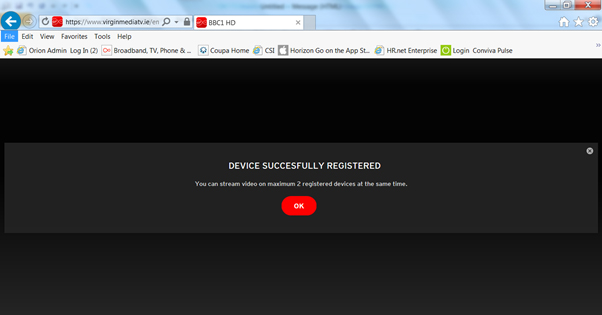 There you go, your device has been registered. However, if you already have two devices registered, and are trying to watch on a third, you'll see the following.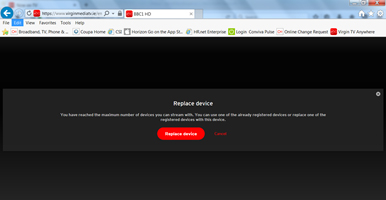 To continue watching, select "Replace device" and chose the device you would like to take the place of.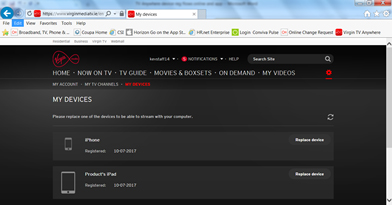 After you've selected the other device, click "Yes".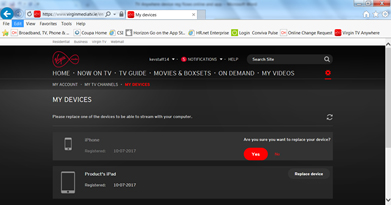 And you're all set – Enjoy!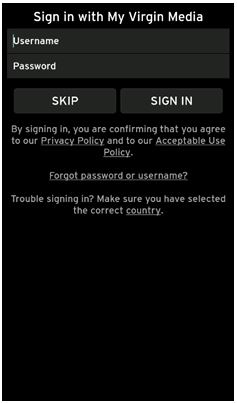 If your My Virgin Media details are correct, check that you're getting service on your device. If you'd like, visit the support page, scroll to the middle, and enter your account number to check for any updates that may be affecting your area.
Of course, your service could also be suspended due to a late payment. We hope that's not the case, but sure, it never hurts to log into your My Virgin Media account, go to the billing page, and double check.

More
Online:
What are the features of the Virgin TV Online service?
With Virgin TV Online, you have can watch up to 80 live channels, peruse On Demand, dive into Virgin Boxsets and Virgin Movies, and cruise through kid's programmes wherever you have internet access.
To use Virgin TV Online on your laptop or PC, go to http://www.virginmediatv.ie and use your My Virgin Media account information. If you haven't registered for My Virgin Media yet, you can register now. If you've forgotten your username or password you can just reset them.
Please note that Internet Explorer 8 and 9 are no longer supported. Please upgrade your browser to the latest version or use an alternative browser.

Which browsers are compatible with Virgin TV Online?
With our Virgin TV Online service, Windows supported browsers include:
Internet Explorer 10.0 and higher
Firefox 3.0 and higher
Safari 4.x and higher
The Virgin TV Online service does not support Chrome or Mac devices.