We all like to get in on the gaming action from time to time, but we're certain that some of our fave on-screen characters would serve up some serious competition should we find ourselves in a gaming battle! Here's what we reckon they'd dominate at...
The Big Bang Theory – Tetris
Tetris is the ultimate game for the analytical, engineering type of mind – so we'll bet that Howard Wolowitz and the rest of the Big Bang gang would love it! The major issue, of course, would be persuading him to simply play the game and not deconstruct the computer to study its components…
The Big Bang Theory, E4, Virgin TV 112, Thursdays, 8.30pm
Zoolander – Covet Fashion

Covet Fashion is a mobile game aimed at those with a passion for fashion. Styling looks – and drawing looks – seems like something that would definitely catch the eye of Derek Zoolander, right? The only problem might arise when his model doesn't quite nail the Blue Steel look like he does – but then, who could?!
Zoolander, Available to rent now on Virgin Movies from €2.99

Gone Girl – Grand Theft Auto

There's little doubt that Amy Dunne, the protagonist of Gone Girl, was something of a criminal genius. But we wonder how she'd get on if her life of crime stepped up a gear – as it would with a game of Grand Theft Auto?! Something about her ice-cool demeanour suggests she'd be right as rain…
Gone Girl, Available to rent now on Virgin Movies from €2.99

Fast & Furious - Need For Speed Payback

When you've been riding with the Fast & Furious lot, nothing short of breakneck will do. Lucky for Dom Toretto, then, that Need For Speed Payback – the latest instalment of the thrilling raving series – offers as much fast-paced, high-octane action as anyone can handle. Just make sure to tell him he can't play while behind the wheel…
Fast & Furious, Available to rent now on Virgin Movies from €2.99

Charlie & The Chocolate Factory – Cooking Fever

Willy Wonka is something of a culinary wizard – but could he branch beyond chocolate? One way to test his true cooking class would be to set him challenges on Cooking Fever, a massive mobile hit that combines more than 400 dishes containing 150 ingredients – just no word on whether or not everlasting gobstoppers would be on the menu!
Charlie and the Chocolate Factory, Now showing on Sky Cinema, Virgin TV 301 – 321

Broadchurch - Kona

A visually stunning and delightfully detailed detective game, Kona puts you in the shoes of Carl Faubert, a private investigator who arrives in snowy Canada to find something altogether sinister going on. Sifting through clues, following leads, and not allowing stunning scenery to be too distracting? It seems like the sort of thing the dynamic duo of Alec Hardy and Ellie Miller are made for! Broadchurch,
Available now exclusively on Virgin Box Sets

Good things come in threes!
Get Virgin TV, Broadband and Home Phone for as little as €59 a month for 12 months. Out of this world entertainment for a whole lot less!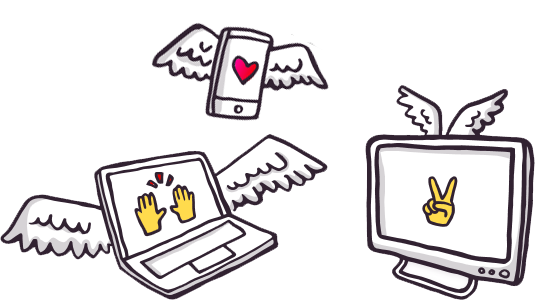 Out of this world entertainment wherever you go!
View TV on your iPad on the couch, on your laptop on your bed or your iPhone in the kitchen when you subscribe to Digital TV and Broadband. All for FREE.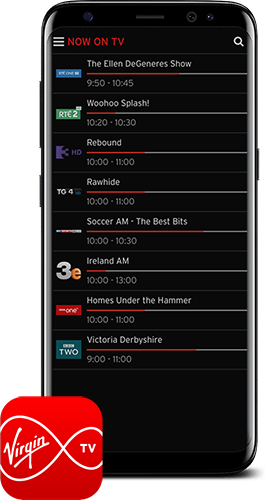 Related entertainment news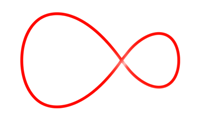 Related entertainment news
Highs, lows and everything in between.
Catch up on all your unmissable TV!
Don't miss a second of the action
find your way to more great movies.