Tops For Telly – Five Things On The Box To Get Excited For This Week
Whether you're addicted to drama, a full-blown movie buff, or a sports superfan, we've got TV that you simply can't miss in the week ahead. Clear your schedule and take your spot on the couch for these must-see moments over the next seven days…
WILL
Wednesday at 9pm, be3 (Virgin TV 106)
A super-stylised take on Shakespeare's younger years, you might be surprised at the amount of energy and excitement packed into this highly fictionalised biopic – it's not what you were studying for the Leaving Cert! It's well-paced, with plenty of pomp and circumstance; who knew the Bard's life could be this much fun?!
THE BOSS BABY
Wednesday at 7.10pm, Sky Cinema Hits (Virgin TV 318)
Alec Baldwin voices the business-minded baba who's taken audiences by storm since he landed in our lives last year. Nominated for a mantle-troubling number of awards, the animated romp is smart, surreal and superbly funny; the titular toddler might be a little terrifying, but the film is entertaining and endearing in equal measure!
GIRLS TRIP
Friday at 8pm, Sky Cinema Premiere (Virgin TV 320)
A familiar concept is given an entirely original slant in a raunchy, raucous and ridiculously funny flick. The chemistry between the gals is unmistakable, and the willingness to take chances and push boundaries will have you laughing like few films can; one of the finest comedies in many years, it's one that you really can't miss!
CHAMPIONS LEAGUE: LIVERPOOL v ROMA
Tuesday at 7.30pm, TV3 (Virgin TV 103)
The outrageous comeback against Barcelona that saw Roma book their place in the last four was the stuff of fairytales; Jurgen Klopp's men will be out to ensure there's no happy ending, though! Anfield on a big European night is a cauldron-like few others, and you can expect the Kop to be absolutely hopping as they set their sights on a sixth continental title.
HAPPY!
Available on Netflix from Thursday
A decidedly oddball comic-book story brought to life, it's the story of a troubled cop-turned-hitman has his life changed by an imaginary winged horse; yeah, we told you it was weird! What's more, it's rude and crude; the comedy is darker than dark; the action is shocking, violent and messy. More than anything, though, it's engrossing stuff – one that needs to be seen to be believed!
Good things come in threes!
Get Virgin TV, Broadband and Home Phone for as little as €59 a month for 12 months. Out of this world entertainment for a whole lot less!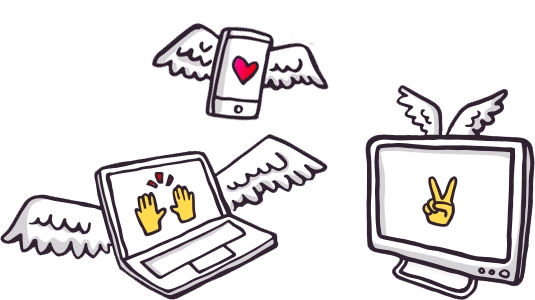 Out of this world entertainment wherever you go!
View TV on your iPad on the couch, on your laptop on your bed or your iPhone in the kitchen when you subscribe to Digital TV and Broadband. All for FREE.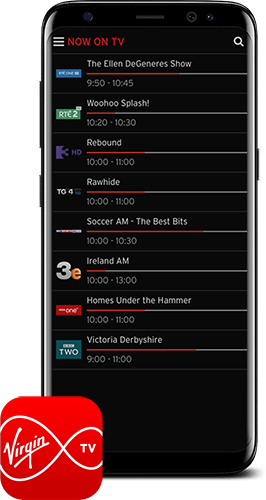 Related entertainment news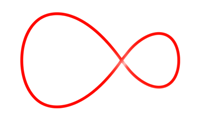 Related entertainment news
Highs, lows and everything in between.
Catch up on all your unmissable TV!
Don't miss a second of the action
find your way to more great movies.