Roaming with your Virgin Mobile
Can I roam with my Virgin Mobile plan?
You can now use your Virgin Mobile allowance anywhere in the EU with Roam Free with EU Roaming Included. This means that while you're travelling in an EU country, you'll be able to use your Virgin Mobile allowance of minutes, texts and data, just as you would at home subject to fair use limits.
You don't need to activate roaming on your Virgin Mobile Plan, but you may need to follow a few simple steps to use data, which you can find on our phone guides page.

How to set up your phone for Data Roaming?
New phones aren't old pros, so the first time you try to use the Internet abroad, you may experience delays. One of the ways to resolve this is by manually entering in your Internet (APN) settings. Check out the step-by-step instructions on our interactive phone guides page.

What are the rates to use my Virgin Mobile phone outside of the EU?
That depends on which country you're roaming around. To see a list of rates and read more details, visit our roaming charges page.

How can I check my voicemail when abroad?
To check your voicemail when you're abroad, dial 171 or dial directly into your voice mailbox by adding a 5 after your prefix e.g. +353 89 5xxxxxxx.

At this point, you'll be asked to enter your voicemail PIN. You can set up your voicemail PIN by dialling 171 from your handset and selecting option 3 from the main menu.
Please note that if you retrieve a voicemail while abroad you will incur roaming charges. You can turn off your voicemail by dialling 171 and following the prompts.


How do I manually select a network abroad?
Different devices require different steps, so we've created a Phone Guides page where you can look up specific instructions. Just follow the link, choose your model, follow the prompts, and you'll be good to go.

How can I control my data costs when going abroad?
There are a few ways to make sure you don't use your data while roaming. The most effective way is by switching off Data Roaming. Different mobile phones have different ways to do this, so please use our Phone Guide.

Is there a Data Roaming limit applied to my Virgin Mobile account?
Yes, there is a data roaming limit of €50 (ex VAT), which is automatically applied to your Virgin Mobile account. Unfortunately, if you go over this limit when roaming, your data roaming will stop working. However, we'll be happy to change this limit for you. Visit our contact page, speak to a member of our team, and we'll make sure your holiday is data-worry-free.

Will Virgin notify me of my data spend when I am using data abroad?
Absolutely. We will send you two text messages: one when you have reached 80% of your limit, and another when you have used the full €50 (ex VAT) worth of data abroad.

Will my mobile service work in all countries?
Our job is to keep our customers connected. To see a list of international destinations where Virgin Mobile works – and the charges associated with each – visit our roaming destinations and charges page.

How can I contact Customer Care when I am abroad?
To contact Customer Care when you're overseas, dial +353 896191908 from your Virgin Mobile phone.

How much does it cost with Virgin Mobile to roam in the EU?
Roam Like At Home means that EU roaming is included in your plan so you can now use the inclusive minutes and texts in your plan while roaming in the EU at no extra cost. For example, if you are roaming in France you can call or text home, call or text another number in France or even another number in a third European Country just like you do at home. These calls and texts come out of your inclusive allowance and once you use up your inclusive allowance either at home or in the EU you will be charged our standard out of bundle rates.

If you are on one of our 2GB Plans you can also use all of your inclusive data allowance while roaming in the EU at no extra cost.

If you are on one of our Unlimited plans a 6.8GB Fair Usage Data Allowance will apply to your EU Roaming Data Usage. This means you can use up to 6.8GB of your 30GB monthly allowance when you are in the EU without incurring any additional charge. If you are roaming in the EU on an Unlimited Plan and you go over your inclusive allowance for voice and text, you will be charged our standard out-of-bundle rates. If you go over your 6.8GB EU Data Roaming Allowance, you will be charged EU roaming data surcharges. All of our rates and surcharges can be found here.
How do I avoid data charges while roaming?
The most effective method of controlling data costs when you're abroad outside of the EU is by switching off Data Roaming. However, be sure to turn this back on when you come back to Ireland so you can use the Virgin Mobile network most effectively. This can be done via the settings menu of your phone. See our Phone Guides for further instructions for your specific handset.
Where can I view roaming usage and charges?
You can view your roaming usage and charges in My Virgin Media. We've made it really easy to keep track of your data usage while roaming in the EU.
You can see your EU Roaming Fair Usage Data Limit, how much EU Roaming Fair Usage Data you have consumed and how much EU Roaming Fair Usage Data you have remaining until the end of your bill period.
All you need to do is
2. In the My Virgin Media Overview page scroll down to the Mobile Usage section on the left hand side
3. For more details click on "view subscription status and settings"
Here you will see a summary of what is remaining in your package for your calls, texts and data at home and in the EU.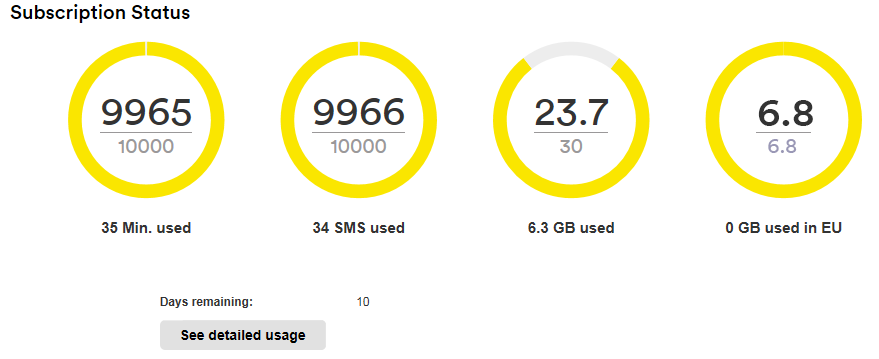 For more details on your usage simply click on the "See detailed usage" button under the summary and you can view your individual calls, SMS and data usage.