Winter Olympics on Eurosport
It's Winter Olympics time again.
This year the games take place in PyeongChang, South Korea with coverage running from the 8th to the 25th of February. The 2018 games will feature an incredible 102 events across 15 sports, with the opening ceremony taking place on the 9th.

Eurosport is proud to be the Home of the Winter Olympics, and will bring you all the events live on Eurosport 1 and 2, as well as 3 new channels launching exclusively for the event - Eurosport 3, 4 and 5. Let the games begin!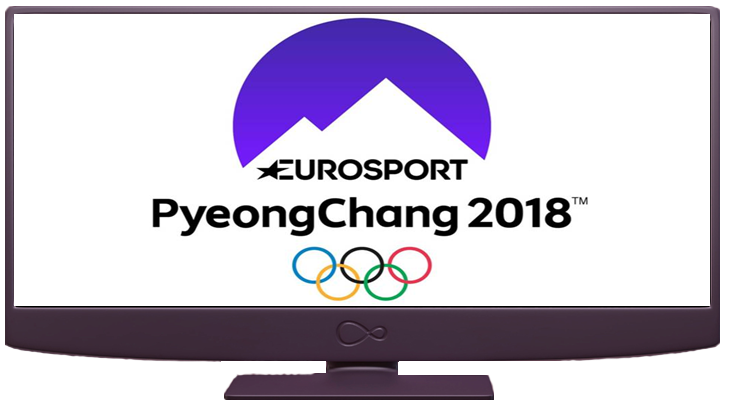 Where and when are the 2018 Winter Olympics?
The games will take place in PyeongChang, South Korea. Coverage starts on the 8th of February with the opening ceremony on the 9th and closing ceremony on the 25th.
For an up to date events schedule, check out the official PyeongChang 2018 website
Are there Irish athletes involved?
Yes! We're delighted to say that Ireland will be represented by a team including Tess Arbez, Patrick McMillian, Thomas Westgard, Bubba Newby and Seamus O'Connor. For more info and updates, check out the Irish Olympic council website.
Eurosport is the official home of the Winter Olympics and they'll be broadcasting across both existing channels (Eurosport 1 & 2) as well as 3 temporary channels, Eurosport 3, 4 & 5. (All available in HD) The channels are also available to all Virgin TV customers on the Virgin TV Anywhere app.
Who can see it and where will I find it?
Virgin TV Customers can access the channels on their set top box and on the Virgin TV Anywhere app, at no extra cost. The channels are available on the Horizon set top box and Virgin TV Anywhere app (in HD) on channels 420 to 425.
Here's where you'll find all the Eurosport channels.

Are the new Eurosport 3, 4 & 5 channels permanent?
No. These are temporary channels created especially for sports fans to watch as much live Olympic action as they can handle!
What do I need to do in order to get access to these channels?
You don't need to do a thing. As soon as the channels go live on the 8th of February, you'll have access to them. Happy viewing!
Can I record these programmes?
Yes, no problem. Remember though - you'll only be able to view Winter Olympics recordings until the end of March 2018.