Find out more about our delivery process, including how to manage your delivery details and choosing your Parcel Motel pick-up point...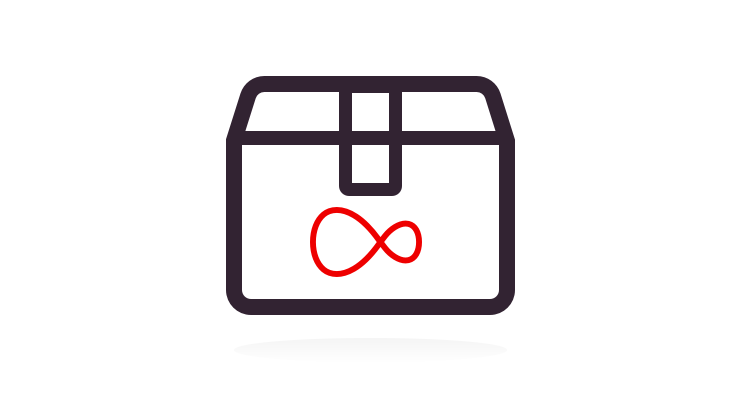 By default, orders will be issued to our courier partner - Nightline.
Your order will be addressed to your home address by default, but once Nightline receive the order for your equipment delivery, they will get in touch with you about the delivery details via text/email - see the next step.

Nightline delivery text message
Manage your delivery details
Within the notification, you will be given a link to Manage your Delivery.
You will have four options at this point:
Change delivery date
Change delivery address
Collect from depot
Deliver to Parcel Motel.
Many of our customers opt to have their equipment delivered to a Parcel Motel.
Their 10,000 lockers are located in over 124 different locations around the country - in petrol stations, newsagents, supermarkets and shopping centres. This means you can collect your parcel whenever you like, and they have 100% delivery success.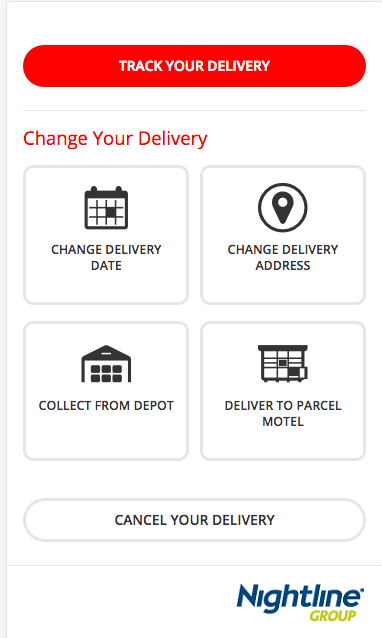 You will see Parcel Motel as a delivery option on this screen.
Find your nearest Parcel Motel
If you select Parcel Motel, you will be given a list of Parcel Motels nearby.
Choose your preferred location and confirm the selection by clicking OK on the confirmation screen.
Nightline will send you a text message to confirm that the delivery has been redirected to Parcel Motel. The message will also include the tracking ID number for your parcel.
Please note: if you choose to deliver to Parcel Motel, this will add one extra working day to the delivery time frame.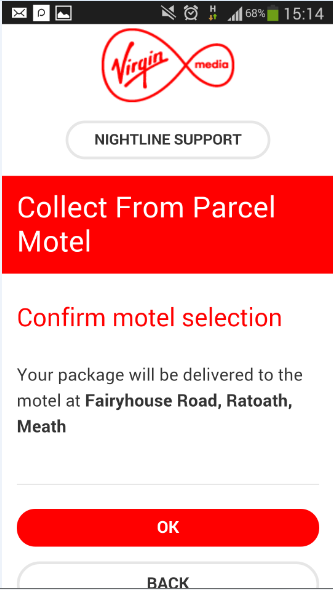 You can confirm your preferred Parcel Motel delivery address
Your parcel is ready for collection!
You'll receive another text message from Parcel Motel once your parcel is ready for collection. This message will include your collection PIN.
You'll have 48 hours to collect your package, and you can collect it at any time during this period. If you haven't collected your delivery after 24 hours, you'll get a reminder text message. If the package is still not collected from the Parcel Motel within 48 hours, you'll get a text message to let you know it's being returned to Nightline.
The following day (after it is returned to the depot) you'll get another text message/email from Nightline to let you know the package has been rescheduled and is out for delivery again. You'll have the option to Manage Delivery (like before) and select the delivery option that suits you.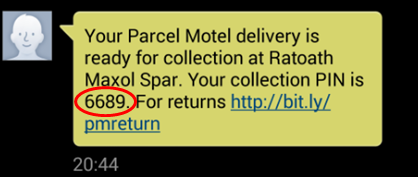 You will recieve a text message when your parcel is ready for collection
Collecting your package at Parcel Motel
You will be asked to enter your mobile number and your unique collection PIN at the Parcel Motel. The locker will then open with your parcel. Once the door has been opened, a proof of delivery (POD) is sent back to Virgin Media. Once we receive the Proof of Delivery (POD), your billing will commence.
Really important note if you are ordering replacement equipment:
If you're an existing customer receiving replacement equipment, please note that service on your old equipment will cease the moment you collect your new equipment. You will need to install your new equipment to restore service.

Once you get home, just plug in the new equipment and start using it! Need some help setting up? Visit our getting set-up section.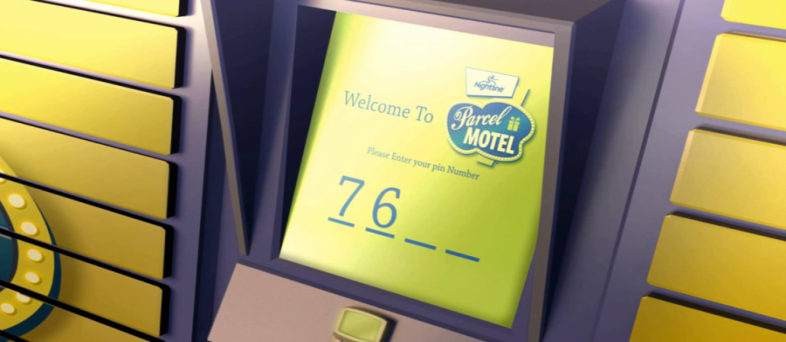 You can collect your parcel from a Parcel Motel locker