1. What is Parental Controls?
Parental controls is a gizmo for your broadband that stops the dark side of the internet getting anywhere near your home, your devices and most importantly your kids. It restricts access to stuff like Adult and Pornography, Hate & Racism & Violence. And it's totally free.
You can switch it on by logging into your My Virgin Media account and clicking the Parental Controls Activate button.

2. When will Virgin Media Parental Controls be available?
Parental Controls is now available to all our Broadband customers.
3. Will Virgin Media Parental Controls work out of home?
No, we're afraid not. Virgin Media Parental Controls only works when connected to your home broadband, or if you connect to the broadband of another Virgin Media customer who has the service.

4. What are the Virgin Media Parental Controls category descriptions?
Virgin Media Parental Controls restricts access to websites across 10 categories. We use Webroot's BrightCloud® Web Classification Service to decide what's included in each:

| | |
| --- | --- |
| Adult and Pornography | Sexually explicit material for the purpose of arousing a sexual or prurient interest. Adult products including sex toys, CD-ROMs, and videos. Online groups, including newsgroups and forums that are sexually explicit in nature. Erotic stories and textual descriptions of sexual acts. Adult services including videoconferencing, escort services, and strip clubs. Sexually explicit art. |
| Nudity | Nude or semi-nude depictions of the human body. These depictions are not necessarily sexual in intent or effect, but may include sites containing nude paintings or photo galleries of artistic nature. This category also includes nudist or naturist sites that contain pictures of nude individuals. |
| Abused Drugs | Discussion or remedies for illegal, illicit, or abused drugs such as heroin, cocaine, or other street drugs. Information on "legal highs": glue sniffing, misuse of prescription drugs or abuse of other legal substances. |
| Marijuana | Marijuana use, cultivation, history, culture, legal issues. |
| Hate & Racism | Sites that support content and languages or hate crime and racism such as Nazi, neo-Nazi, Ku Klux Klan, etc. |
| Violence | Sites that advocate violence, depictions, and methods, including game/comic violence and suicide. |
| Hacking | Illegal or questionable access to or the use of communications equipment/software. Development and distribution of programs that may allow compromise of networks and systems. Avoidance of licensing and fees for computer programs and other systems. |
| Weapons | Sales, reviews, or descriptions of weapons such as guns, knives or martial arts devices, or provide information on their use, accessories, or other modifications. |
| Questionable | Tasteless humour, "get rich quick" sites, and sites that manipulate the browser user experience or client in some unusual, unexpected, or suspicious manner |
| Gross | Vomit and other bodily functions, bloody clothing, etc. |
5. How do you determine what content is restricted by Virgin Media Parental Controls?
As mentioned above, the restricted websites are based on categories provided by Webroot's BrightCloud® Service. For more info on Webroot and their services, see www.webroot.com
6. What does Virgin Media Parental Controls not do?
Although we'll always do our best to provide excellent parental control tools, no technology can provide 100% protection for children online. That's why we encourage parents to speak to their kids about their online activity, and share any concerns they might have.

7. Does Virgin Media Parental Controls update automatically?
Yes. As well as providing 24/7 protection for all the devices on your home network, Virgin Media Parental Controls is continually updated by Webroot's BrightCloud® Service. This makes sure you get the most effective, up to date protection, always.

8. How do I report a website which I believe should be restricted by Virgin Media Parental Controls?
If you believe a website should be restricted but currently is not, please complete our Blacklist Request Form as outlined below.
Type in the name of the website that you believe should be restricted in the URL field.
If you wish to receive notification regarding your change request you can input your email address and click the box 'I would like to receive notifications regarding this change'.
You must complete the section 'Please tell us why you believe this website should be restricted'
Click the 'Submit' button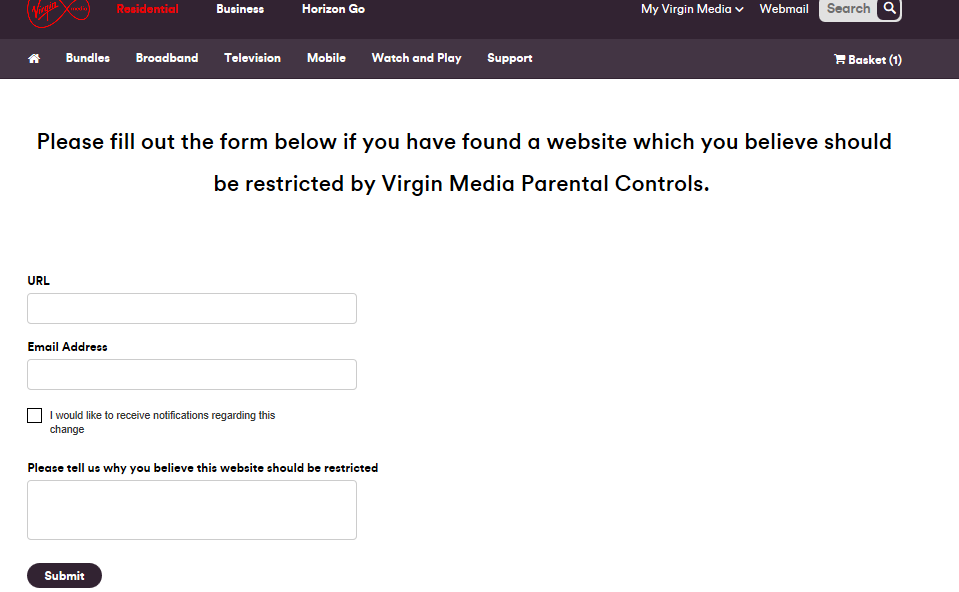 10. Will Virgin Media Parental Controls affect my Virgin Media TV service?
Parental Controls will work on any device that's connected to your Virgin Media Home Broadband Service, including your TV. So if you've set up Virgin Media Parental Controls and use a web browser on your Smart TV, websites with inappropriate content will be restricted on your TV too. So you can relax, knowing the little people in your life are protected.
Your Virgin Media TV service also has separate Parental Controls that protect your children from unsuitable programmes. It uses an age-classification rating (G, PG, 12, 15, 18) See below for more:

11. Will the Virgin Media Parental Controls work on Virgin Media's Wi-Free Service?
No, we're afraid not. Don't forget that Parental Controls only work when you're directly connected to your Virgin Media Home Broadband Service .

12. What blocking technologies are used by Virgin Media Parental Controls?
Virgin Media Parental Controls is a real time Domain Name System (DNS) based solution. Once the service is activated, any device you connect to your broadband will be protected.
*Good to know: All customers are opted out unless you choose to activate the service.

13. Does Virgin Media hand over any customer data to third parties?
No. At Virgin we're all about protecting your data, so we don't make it available to any external parties except where required to do so by law.

14. Why does the Virgin Media Parental Controls not work with my Virgin Media mobile subscription?
Here's why: Virgin Media Parental Controls only works on devices that are connected to your Virgin Media Home Broadband. So if your mobile is connected by WiFi, your device will be covered. But don't forget, as soon as you leave your house it won't be protected.