Billing: Leaving Virgin Media
I have cancelled my account so why have I received a bill?
We require 30 days' notice to process a cancellation request, so it's likely you received a bill that reflects the normal billing period. Additionally, because we charge a month in advance for our services, you will also receive a final bill once the 30 days' notice has been completed.
The amount on this bill is the closing balance for your Virgin Media account, which, due to timing, could either be an outstanding payment, or a credit left on the account. So that there's no confusion between the last bill and the final bill, we'll state which is which in the Summary Section.

Explain my 'final bill' for fixed services with a credit
Below is an explanation of a final bill if a credit is due:

Explain my "Final bill" for fixed services with zero balance.
The only thing better than knowing there's no balance due is seeing it printed in black and white. Here's an example of what your final bill will look like with no balance due.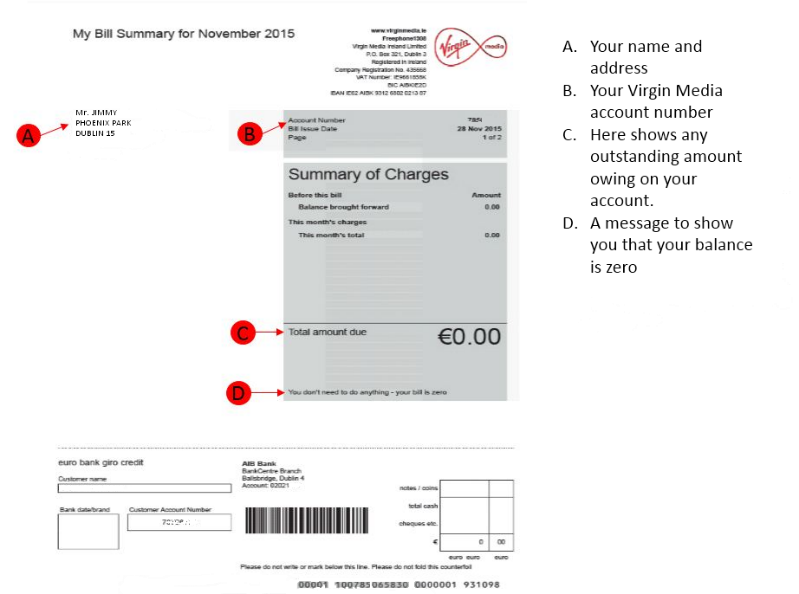 There is one thing better: Knowing you have credit owed you. Want to learn more about a final bill with a credit? Of course you do: Click away.
Final bill with zero balance explanation
Explain my 'final bill' with an outstanding balance.
Though we hate to see you go, we still love to help. Here's a quick guide to help you understand your final bill.

On my final bill my Balance shows that I have a credit. How do I get refunded?
If your final bill displays a credit in the summary, you need to contact us and request a refund on your account.
Please visit our contact page and we can arrange for this to be sent to you.

What happens to the last bill from my old place?
You'll barely notice the change. You'll still get your bills on the same date, and if there is a balance owed from your previous address, we will carry this over onto your next bill at your new address.