Say hello to the Virgin Media Hub
Our latest tech delivers the best WiFi to every corner of your house
Based on Ookla's analysis of Speedtest Intelligence data for Q2–Q3 2017. Ookla trademarks used under license and reprinted with permission.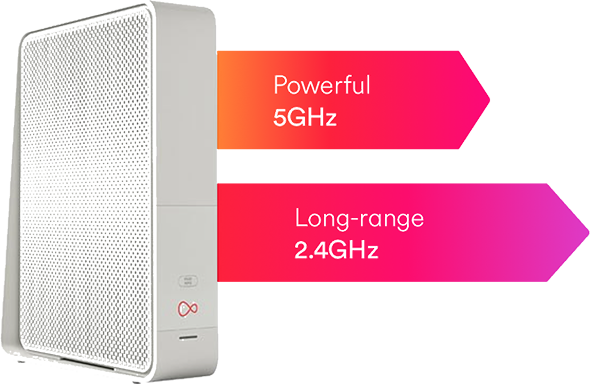 Pumping the fastest WiFi all around your home
Because it uses 5GHz & 2.4GHz, you can have both powerful and far-reaching WiFi to ensure every device in your house can get connected.
Full DOCSIS 3.0 cable modem functionality (also fuly compatible with DOCSIS 1.0,1.1,2.0)
Twenty -four bonded downstreams
Eight bonded upstreams
Four ethernet 10/100/1000BaseT ports
Wireless b, g, n capable in 2.4GHz band plus wireless a, n & ac in 5GHz band (Dual concurrent frequencies)
Supports WPA/WPA2 wireless security encryption
Supports WPS push button synchronsisation

Built-in router, DHCP and firewall which can be customised and deactivated

External power supply (12v 2.5A)
Dimensions: 215mm x 70mm x 220mm
Our Red House Ninjas will make your home a WiFi temple.
WiFi, broadband, smart devices – our ninjas are trained in the art of top performance. Schedule a visit, let them optimise your home, and get your own red belt along the way.
Only €50 when you purchase Broadband or a bundle