Virgin Media Business Launches its New Mobile Service
Bundles start from €25 and are targeted at the small businesses of Ireland
May 14th, 2018: Virgin Media Business has just announced the launch of their new mobile service targeted at small businesses. With the launch of Virgin Media Business Mobile, small businesses now have access to the best services tailored to their specific needs.
Businesses can choose from a range of bundles that suit their particular requirements with contracts that range from 30 days to 12 months, an online self-administration portal or dedicated customer service representative and current Virgin Media customers can avail of discounts also.
Bundles start from €25 with 3 varying options to choose from with VOOM Mobile International offering unlimited 4G Data, calls and texts in Ireland along with unlimited calls and texts to Europe, Canada and the US and 10GB of data whilst roaming in the EU.
Aidan Darcy, Head of Business Division at Virgin Media Business said: "This new mobile offering from Virgin Media Business is targeted at the likes of tradesmen, retailers, techies and the 'small office/home office' workers out there because, we know, for them, business is always personal and there is very little separation between their work and personal lives."
"Because of the size and nature of their business, we've seen how other networks don't bother communicating directly to them, ignoring them in favour of the bigger corporate accounts and/or offering generic services that are not tailored to their business. It's no wonder, therefore, that many small business owners remain on personal plans."
"Every business deserves the best business services. Now with Virgin Media Business Mobile, we have plans to suit every business. We're particularly interested in helping support Ireland's up and coming businesses and want Virgin Media Business Mobile to become known as the business service provider for small businesses in Ireland."
Below is a breakdown of what's offered on our 3 VMB Mobile plans with bundles starting at €25.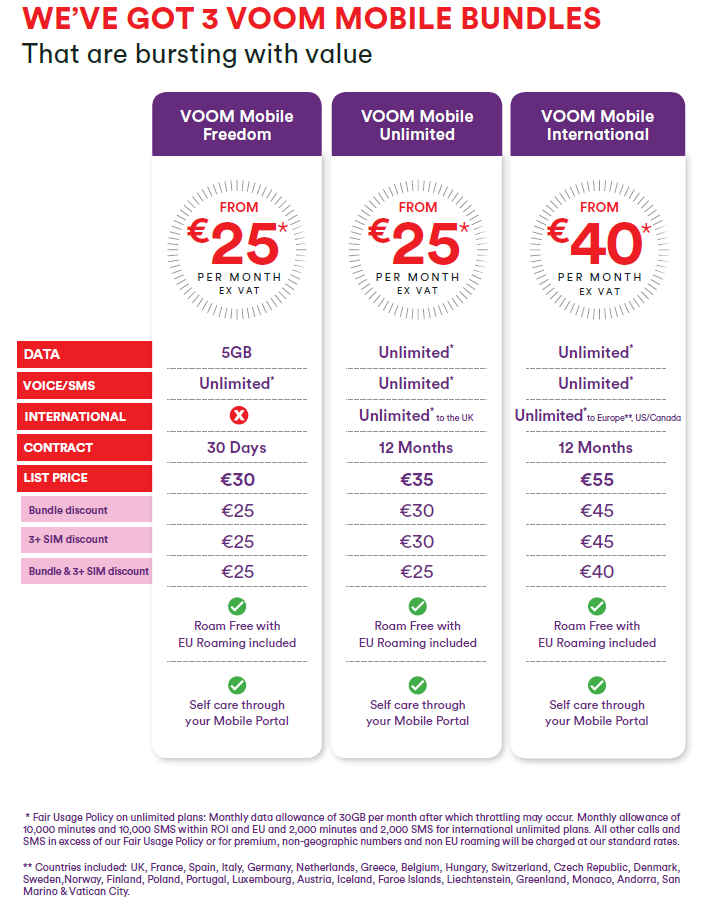 About Virgin Media
Virgin Media is known for challenging the status quo – taking on industry giants, championing people and simply delivering extraordinary products and services.
We help create a digital world that makes good things happen: for our customers and the communities in which we operate. Our multi award-winning services: broadband, TV, mobile and home phone connect thousands of people across Ireland. But we're not finished, we're extending our network reach so that more communities and enjoy the benefits of the fastest widely available broadband speeds from only one provider in Ireland.
Virgin Media acquired TV3 and UTV Ireland which now operates under the TV3 Group to become Ireland's number one commercial broadcaster. As Ireland's number one commercial broadcaster, TV3 operates three free-to-air channels - TV3, 3e and Be3 and is a significant investor in home produced content – across news, current affairs and drama.
Through Virgin Media Business, we support entrepreneurs, businesses and the public sector, delivering the fastest speeds and tailor-made services.
Virgin Media is part of Liberty Global, the world's largest international TV and broadband company, with operations in 11 European countries.
For further information please visit: www.virginmedia.ie