Highly innovative breastfeeding app Coroflo crowned Dublin Winner of Virgin Media Business Voom Tour
CEO Rosanne Longmore will brunch with Richard Branson and scoops €6,000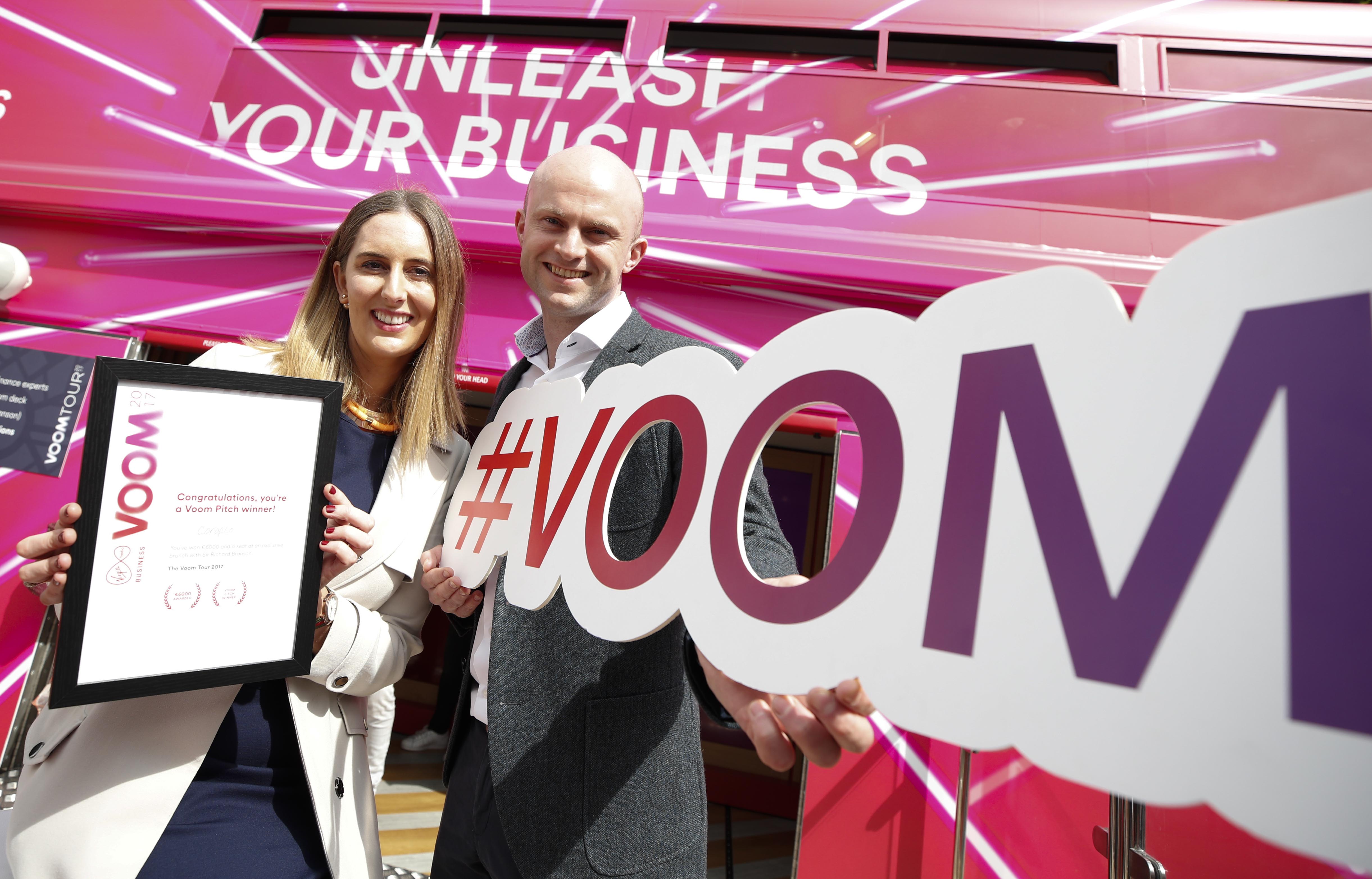 Dublin, Wednesday May 31st, 2017: Coroflo, a digital start-up which has developed a revolutionary breastfeeding assistance monitoring system and app, has been crowned the Dublin winner of the Virgin Media Business Voom Tour mini-pitch competition earlier today. They not only collect €6,000 but will also get to meet Richard Branson to discuss their business ideas over Brunch later this year.
Dublin based Coroflo has developed and patented a revolutionary nipple shield and app that aids mothers greatly in the breastfeeding process. It monitors the milk flow from mother to baby, providing accurate details of how much breast milk an infant has consumed www.coroflo.com
Six companies* pitched today as part of the Voom Tour festival and in true Virgin style, presented on board the Voom double decker tour Bus at the TechConnect Live show in the RDS. A panel of judges included Toby McCartney, founder of MacRebur and winner of VOOM 2016.
The Voom Tour is the first time that Voom Pitch, the Ireland and the UK's biggest business pitching competition, has hit the road in search of the best new business ideas. It's designed to help the brightest and the best Irish companies to perfect their pitching ahead of the national competition in 2018. In addition, the Voom Bus offers free and exclusive 1-on-1s with leading experts such as LinkedIn, Crowdfunder, Institute of Chartered Accountants (ICAEW) and JCDecaux.
Sir Richard Branson, Virgin Group Founder, said: "The Voom Tour is seeking out brilliant entrepreneurs and ideas to help break down the barriers to business success. The aim is to help them put aside their fears and take the next steps on what could be the most significant journey of their business life. I'm looking forward to meeting the winner of the Dublin Voom Tour visit."
Paul Farrell, Vice President of Commercial, Virgin Media Business, added: "Coroflo are very impressive and an extremely worthy winner. The overall talent on show here today has been truly exceptional. Competitions such as this couldn't come at a better time for Irish businesses or entrepreneurs as it's an entirely merit based programme which allows the most innovative, disruptive and original business concepts to rise to the top."
Run by Virgin Media Business, this is the second year of VOOM in Ireland. In 2016, Irish start-up FoodCloud reached the VOOM finale with Richard Branson, finishing in a fantastic second place, securing the company €25,000, a Virgin Media Business broadband package, mentoring and brand support. The overall winner in 2016 was Bio-Bean in the 'Grow' section of Voom, with MacRebur taking the 'Start-up' gong.
The VOOM Tour is officially live and traveling across cities in Ireland and the UK and with its next stop in Belfast's St. George's Market on June 6th and 7th. It is designed to help the brightest and the best Irish companies to perfect their pitching ahead of national competition in 2018.
For more information on the Voom Tour, and details on how to register to pitch a great business idea, please visit https://voom.virginmediabusiness.co.uk/voom/tour
-ENDS-
*Startups participating today
| | |
| --- | --- |
| Coroflo | Coroflo have developed a revolutionary nipple shield and app that aids users greatly in the breastfeeding process. |
| Trezeo | Trezeo is a FinTech business with a mission to provide financial stability for self-employed people working in the gig economy. |
| MEDIAPTI | MEDIAPTI is a safer and more effective way to give medicine to babies. |
| WordsWorthLearning | WordsWorthLearning Programme is an online programme created to help students, parents and teachers understand and help children with dyslexia and associated reading issues. |
| Cx Moments | Cx Moments provide text Analytics to improve NPS/CSAT and optimise Contact Centre efficiencies |
| Sproose | Sproose is a simple booking app that enables customers to book a dry cleaning collection from work. |
NOTES TO EDITORS
Next Stop - Belfast:
The Voom Bus will be open from 8am-5pm on Tuesday 6th and Wednesday 7th June 2017. It will be located at St George's Market, 12-20 East Bridge Street, Belfast, BT1 3NQ
Voom Tour 2017
The Voom Tour 2017 will visit regional centres across Ireland and the UK and will include ten Voom Pitch competition stops, introduction to Voom Fibre and business networking opportunities. Virgin Media Business would like to thank its Voom Tour partners JCDecaux, ICAEW, Crowdfunder and Virgin StartUp.
Voom Tour 2017 Partners
Crowdfunder
The UK's #1 crowdfunding platform, Crowdfunder is all about putting the #VOOM into fundraising and awareness for great ideas. And they give Voom Pitch entrants the chance to raise money while they canvas votes. The team are hitting the road to share their know-how, spreading the word about creating brilliant crowdfunding campaigns, gaining validation to take ideas from a light-bulb moment and making it happen through the power of the crowd.
JCDecaux
The UK's number one out-of-home advertising company is also part of the world's leading outdoor advertising company.
ICAEW
ICAEW is committed to helping companies like #VOOM by providing entrepreneurs with free professional support and guidance through our Business Advice Service. Our ICAEW Chartered Accountants advise over 1.5 million businesses across the UK and will be available at stops on the tour to support entrepreneurial businesses aiming to grow and develop. As leading financial experts, a qualified chartered accountant can help you with all your business issues, from managing your cash flow to accessing the right funding solution for your business, to ensure that your business succeeds.
Voom Pitch
Voom Pitch is the new name for the national pitching competition and the new regional competitions. Both the national and regional competition gives entrepreneurs and small and medium-sized businesses the opportunity to pitch their ideas to expert judges and win prize money and business promotion opportunities. The national competition will be judged by Richard Branson and there will be opportunity to win a slice of a prize fund worth over £1million (€1.2m) and will take place in March 2018. Voom Pitch, the regional competition, will be part of The Voom Tour and there will be chance to win a slice of a prize fund worth £50,000 and takes place in communities across Ireland and the UK between May and Nov 2017.
About Virgin Media Business Ireland
With over 15 years' experience in the telecommunications industry, Virgin Media Business is one of the largest B2B communications providers in Ireland. Our competitive advantage lies in both our high capacity optical fibre network (exclusively owned within Ireland with extensive reach) and the breadth of our product portfolio, which spans the complete spectrum of business communications.
As one of the largest telecoms providers in Ireland, we have a very strong presence in Dublin, Cork, Galway, Limerick, Mullingar, Sligo, Athlone, Carlow, Kilkenny and Waterford and 17 other regional towns and cities across Ireland. We are committed to investing in our Network, systems and people to provide high quality services to our customers.
In Ireland, Virgin Media has an extensive fibre network connecting all the Virgin Media hub sites. Virgin Media utilises DWDM to provide high bandwidth layer1 connectivity into the Large Virgin Media core Sites & Datacentres across Ireland. This equipment supports wavelengths up to 100Gbps and a variety of Fibre Channel bandwidth options.