Virgin Mobile launches new mobile phone range including
Apple, Samsung, Sony and super speedy 4G for all customers
5th July 2016 – Virgin Media has today announced a key milestone in the Virgin Mobile journey, with the launch of its range of mobile phones, featuring top brands including the Apple iPhone 6s, Samsung Galaxy S7 and Sony Xperia X on Thursday, 7th July.
The great news doesn't stop there – superfast 4G is now included at no extra cost for all Virgin Mobile customers, with speeds up to 10 times faster than 3G.
Buying a mobile phone is different with a Virgin Mobile 'Freestyle' contract. It gives customers greater flexibility to:
1. Choose the plan, the phone and the contract length they want to best meet their needs
2. Change their plan up or down any month
3. Upgrade their phone whenever they want, and without penalty – by paying off what they owe on the phone only
How does Virgin Media 'Freestyle' work?
Unlike standard mobile contracts, Virgin Mobile Freestyle splits your monthly payments in two, but on one bill. Your bill will show one figure for your Mobile Phone, and one for your Plan. Add them together, and that's what you'll be paying each month. It's transparent – so you can see exactly what you are paying for.
Even better, once you have paid off your phone over your contract, you stop paying for that phone. Why should a customer continue to pay for something they've already paid for? Of course, they shouldn't, but they do with other operators!
Our launch offers include the Apple iPhone 6s 16GB and the Samsung Galaxy S7 from just €190 upfront, and only €35 a month for the first 4 months, and €50 thereafter – on a 24 month contract. This includes our Unlimited plan, with unlimited 4G data, calls and texts.
Ronan McEvoy, Head of Mobile, Virgin Media said: "Since the launch of Virgin Mobile last October, our mission has been to shake up the market by offering simple, good value offers – starting with Virgin Mobile Unlimited. We're continuing this with our range of mobile phones, carrying the best brands, the latest phones and keeping it simple. Why sell over 50 phones, when most customers just want to choose from a range of high quality bestsellers like Apple, Samsung and Sony?"
"With 4G data, we wanted to give all of our customers the best data experience we can – but at no extra cost. No need to opt-in, or change your plan, or pay more. Again, we're keeping it simple!"
ENDS
Example – iPhone 6s 16GB:
Virgin Media customers can save at least €240 compared to Vodafone or Meteor customers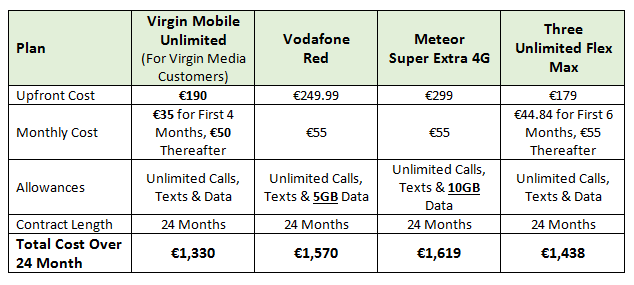 Example – Samsung Galaxy S7:
Virgin Media customers can save at least €190 compared to Vodafone or Meteor customers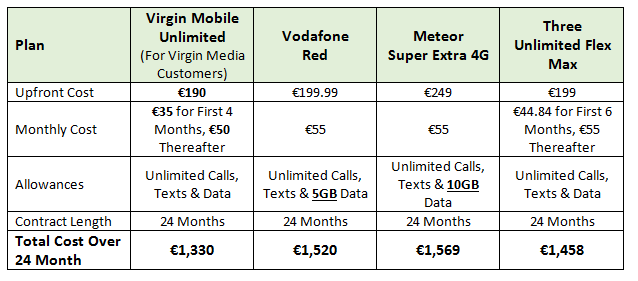 Prices for non-Virgin Media TV or Broadband customers are €5 more per month, with no promotion.
Note: Comparisons exclude other non-core benefits, such as 100 worldwide minutes & texts with Vodafone Red, and Free EU Roaming with Meteor.
Prices as published on www.vodafone.ie, www.meteor.ie and www.three.ie on 01/07/16.

The phones available with Virgin Mobile are:
• Apple iPhone 6s 16GB & 64GB
• Apple iPhone 6
• Apple iPhone 5s
• Apple iPhone SE
• Samsung Galaxy S7
• Samsung Galaxy S6 Edge
• Samsung Galaxy S6
• Samsung Galaxy A3 (2016)
• Samsung Galaxy J5 (2016) – Coming Soon
• Sony Xperia X
• Sony Xperia XA
• Sony Xperia Z5 Compact
• Microsoft Lumia 550

About Virgin Media

Virgin Media is Ireland's leading digital pioneer and innovator, offering the most competitive digital TV, superfast broadband, landline and mobile phone services. Virgin Media is also the owner of TV3 - Ireland's leading commercial broadcaster operating two free-to-air channels (TV3 and 3e) and a digital platform with a major emphasis on home produced programming.