How much would you pay for a peaceful life?
For about the price of a posh coffee (and much less than a craft beer!) get multiroom TV and enjoy all your favourite shows on two TVs at once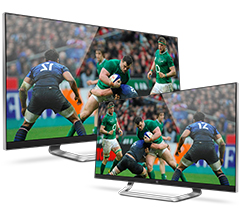 Multi Room Viewing

Get an extra Digital+ box in another room for just €11 a month.

A €20 once off activation fee applies
10
Multi Room Viewing
€5
p/m
12
€11
Why stay in one room
An additional €60.00 connection fee per room applies if cabling is required. These terms & conditions are in addition to Virgin Media's General Terms & Conditions, a copy of which is available here.
Please note, HD is not available for Sky Movies or Sky Sports on the multiroom box.