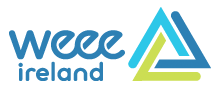 If the WEEE symbol is on your equipment, it means that the product is classed as Electrical or Electronic Equipment and should be recycled at the end of its working life. As part of the approval by the Department of the Environment, WEEE Ireland is chartered to collect and recycle electrical waste. At Virgin Media, we take back WEEE equipment on a one-for-one basis free of charge. To find out more, call us on 1908.
Choose any of these options:
1) Return equipment to Virgin Media yourself (Call 1908 for info)
2) Book a collection via Nightline and return in the bag provided in the installation package.
3) Drop it to your local WEEE recycling plant.
To book a collection, email WEEECollections with your name, collection address, mobile number and your Virgin Media account number. If you email us before 5:30p.m., your item will be collected on the next working day. Alternatively you can specify a collection date (Mon-Fri). If you'd like us to collect from a work address or alternative to your home address, no problem – just provide that address.
To find your nearest WEEE plant, see www.weeeireland.ie or www.erp-recycling.ie

WEEE Registration No. IE 01037 WB
Waste Electrical and Electronic Equipment (WEEE) is taken back free of charge on a one-for-one, like-for-like basis. Waste batteries including rechargeable batteries are taken back free of charge. You are not obliged to make any purchase when returning old batteries. Each local authority must also accept household WEEE and small batteries free of charge at its recycling facilities. All WEEE and waste batteries must be recycled and should not be placed in any of your household wheelie bins. Make sure you always recycle all your old electrical goods and batteries.